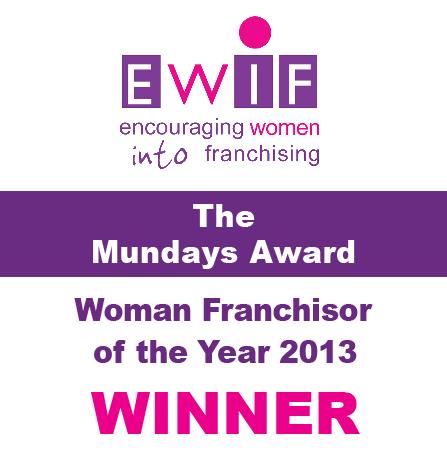 Leading alloy wheel refurbishment franchise, The Wheel Specialist, are extremely pleased to announce that director Ginny Murphy won the Woman Franchisor of the Year award at the fourth annual EWIF (Encouraging Women into Franchising) Awards.
The EWIF Awards honour and encourage the determination, hard work and amazing achievements of the female franchisees and franchisors of their industries.
The theme for 2013's EWIF Awards was 'Inspiring Women' and The Wheel Specialist Managing Director, Ginny Murphy certainly lives up to that designation. Since launching their franchise in 2007, The Wheel Specialist have grown to form a network of 18 franchisees with sales in excess of £3.5 million in 2012, an increase of 14% from 2011. Their network still continues to grow at a remarkable rate with a further 5 franchise units already signed for start-up this year.
Ginny has said she is thrilled to have received this award, commenting "we pride ourselves in always striving to do all we can for the business and all of our franchisees, we work hard and achieve amazing results, I am so pleased that this has been recognised". Ginny went on to say "the significant network growth, undeniable success and profitability of the franchise, coupled with the unwavering support offered to all franchisees, is second to none and our continued success speaks for itself".
The fourth annual EWIF awards took place at 250 Bishopsgate House in London this May, sponsored by NatWest, hosting an audience of guests from across the UK franchise industry.
The Wheel Specialist has over 20 years of experience in specialist alloy wheel refurbishment and customisation and over 40 years technical know-how and development in leading powder coat technologies and techniques. With thousands of happy customers and hundreds more being added each week there is growing demand for our own unique brand of specialist alloy wheel refurbishment and customisation.